R&M Towing LLC
R&M Towing LLC is a parking management company in Central Phoenix, devoted to private property impound services & professional parking management.  Video is recorded in all trucks, employees are background checked & TIMS Certified, we're experienced in a most difficult industry & give back to our community more than most.
What do we do?
Private Property Impound
Professional Parking Management
Commercial Parking Management
Condo Parking Management
Handicap Parking Enforcement
HOA Parking Enforcement
Towing Enforced Parking Control
Problems We Fix
Abandoned Vehicles
Assigned Space Offenders
Blocked dumpsters
Fire Lane / Red Zone Offenders
Handicap Parking Offenders
Permit Parking Offenders
Vehicles Double Parked
Community Solutions
Parking permits
Parking signs
Red zone & fire lane painting
Pressure washing of

Breezeways
Dumpster Pads
Sidewalks
Monthly Inspection Report
Have your property routinely inspected each month with a detailed report provided.  Effortlessly find & address issues in a timely manner for violations such as improperly parked vehicles, flat tires, inoperable, abandoned, and more.  Let us help you prevent issues and ensure smooth operation.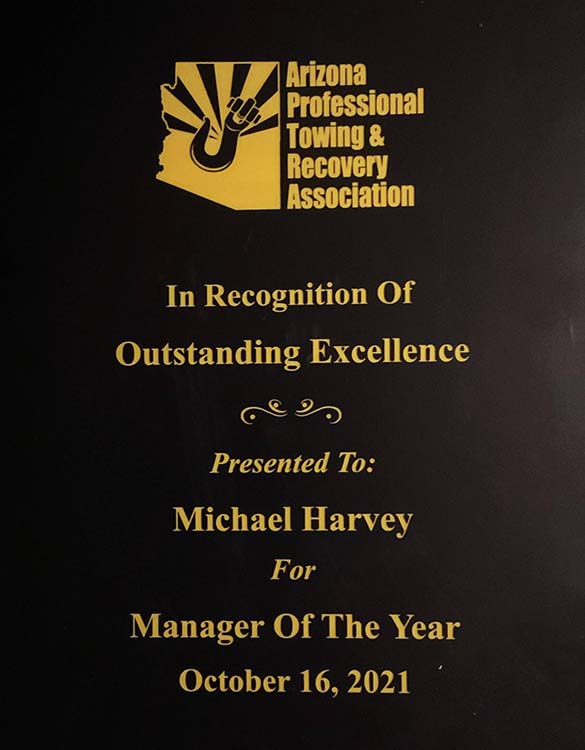 Congratulations Michael Harvey
Manager Of The Year!
It is an honor to have our own Michael Harvey awarded "Manager Of The Year" by the Arizona Professional Towing & Recovery Association in recognition for his outstanding commitment to excellence.
(This was only awarded to one person in Arizona in 2021)
Sophia helped me out tremendously when I only had an expired registration to show when trying to get my vehicle released. She went out of her way to log into... read more the MVD website to verify the owner. If she hadn't done that I wouldn't have been able to finish picking it up and would have accrued additional storage. Thank you so much.Service: Car towing

Chloe Martinez


October 3, 2021
Vehicles are reported to local PD, verified as not stolen & registered as impounded. Contact us to confirm storage location